FAQ
Still have questions? Visit our FAQs.
1.Remote Access VPN
A remote access VPN works by creating a virtual tunnel between an employee's device and the company's network. Businesses use remote access VPNs to establish a secure connection between their network and the devices used by remote workers. Once connected, employees are able to access the resources on the network just as if their devices were physically plugged in at the office.
2.Site to Site VPN
A site-to-site VPN allows a business with offices in multiple locations to establish secure connections between the various LANs at these offices over the internet. For example, a site-to-site VPN might connect a branch office LAN to the main network at company headquarters. A site-to-site VPN therefore extends the company's network, making computer resources at one location available to employees at other locations. This capability makes a site-to-site VPN an attractive option for a growing corporation with branch offices around the world.
    >Intranet based VPN is best for remote offices within the same company, while a remote access VPN makes the most sense for a mobile employee within the company.
    >Extranet based VPN connects LAN to LAN between multiple companies (such as customers and suppliers) so that they can work in a shared environment
1.Download your VPN app. Select your plan and download the Option VPN app for your computer or mobile device.
Set up your VPN service. Option VPN apps are quick and easy to set up. …
Connect to a VPN server. Connect to one of the Multiple locations and enjoy the internet with privacy and security!
– VPN Definition
A VPN, or Virtual Private Network, allows you to create a secure connection to another network over the Internet. VPNs can be used to access region-restricted websites, shield your browsing activity from prying eyes on public Wi-Fi, and more.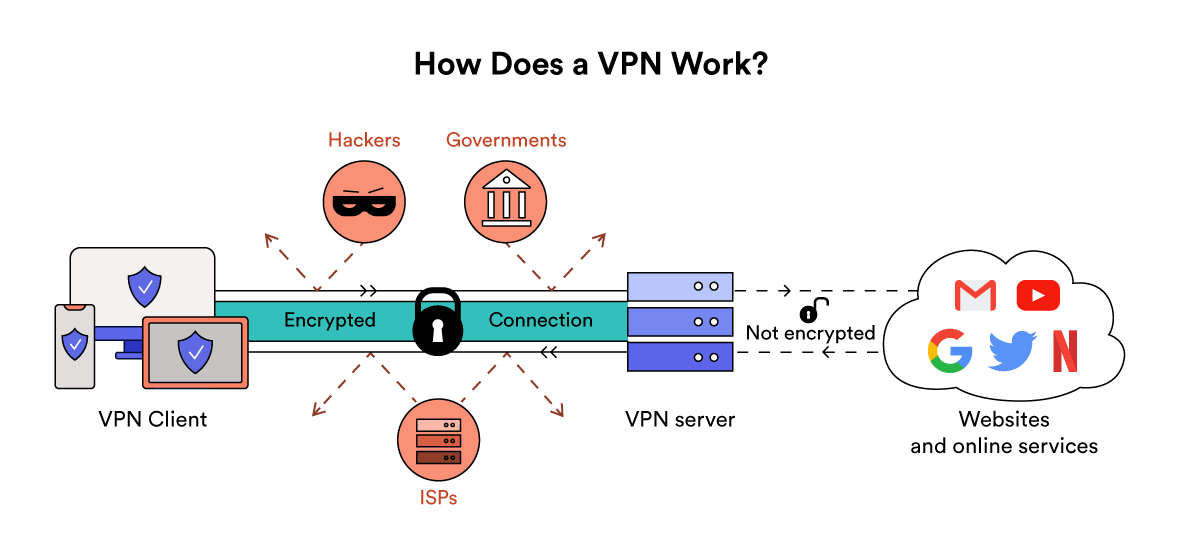 Enhanced security. When you connect to the network through a VPN, the data is kept secure and encrypted. In this way, the information is away from the hackers' eyes.

Remote control. In the case of a company, the great advantage of having a VPN is that the information can be accessed remotely even from home or from any other place. That's why a VPN can increase productivity within a company.

Share files. A VPN service can be used if you have a group that needs to share data for an extended period.
VPN SERVICE CHECKLIST
Not all VPNs are created equal. For every stellar security service in the industry, there's an equally corrupt provider lurking in the wings. Though VPN services may appear similar at-a-glance, distinguishing between the good and the bad is easy when you know what to look for. Use the VPN service checklist to separate the trustworthy privacy protectors from their double-dealing competitors.
EVEN THE BEST FREE VPN CAN'T DELIVER PREMIUM PROTECTION
When it comes to free VPN providers, you get what you pay for. Not only do you sacrifice your privacy and security, you also subject yourself to poor VPN performance. These shortcomings manifest themselves in a plethora of ways.
TRUSTED PROVIDER

FREE VPN

Transparent, logless policies 

 

Apps for popular devices

 

High Speed Servers

 

Customizable connections

 

Unlimited

bandwidth

 

24/7 customer support

 
WHY ARE FREE 

VPNs FREE?
As the adage goes, "if you are not paying for it, you're not the customer; you're the product being sold." The truth is that there's no such thing as a free VPN. It's impossible to get something for literally nothing. So, if you aren't directly paying for VPN access with money, your VPN provider must resort to alternative measures to drive revenue. Usually, these measures completely defeat the purpose of a virtual private network.
Data Collection and Selling
Operating a virtual private network isn't cheap. One of the ways free VPN providers turn a profit is by monetizing your data. When you're connected to a free VPN, your free VPN provider can log and monitor your online activity, including your browsing habits. Once this data is compiled, your provider sells it to third-party bidders.
Advertisements
Advertisers are some of the most notable data buyers. In exchange for your internet traffic, they form an affiliate partnership with your free VPN provider to serve you ads. These ads are often placed inside your free VPN provider's app, but will continue to appear when you're not connected to your provider's network.
Traffic Manipulation
Affiliate partners also fund free VPN providers' ventures through traffic manipulation. As part of their partnership, free VPN providers will prioritize traffic to affiliated websites. This includes diverting your traffic away from specific retailers, redirecting it to advertisers' URLs, and throttling your connection on competitor domains.
Lack of Servers
A quality virtual private network should operate on a global scale and include a long list of servers and server locations to choose from. Unfortunately, this is not the case for free VPN providers. Their networks typically include low server counts and a limited number of countries and cities.
Slow Speeds
Because encryption adds a layer of security to your internet connection, all VPNs impact your speed. With the most trusted VPN providers, this impact is negligible, but with free VPN providers, speed suffers greatly. This is due to overloaded servers, a lack of evenly spread server locations, and poorly engineered network infrastructure.
Outsourcing
Ideally, all VPN providers should manage their network in-house. This ensures all network resources are secure and in-sync. But because free VPN providers don't charge for access to their service, they must cut costs. This means they're forced to outsource network management to third parties, which comprises both server hardware and user trust.
Substandard Apps
Intuitive VPN apps make for a smooth user experience. Customizable preferences, such as favorite protocols, servers, and virtual locations can expedite the connection process, allowing users to secure their data faster. But free VPN providers are sorely lacking in this area, typically offering bare bones software on few devices and platforms.
Limited Protocols
Tunneling protocols offer users a way to customize their VPN experience based on individual needs. Some protocols prioritize security, while others cater to users looking for the fastest encrypted connections possible. Sadly, free VPN providers often offer a limited number of protocols – if they even let users customize connection protocols at all.
Poor Support
Like other aspects of VPN infrastructure, a proper round-the-clock support team is costly to maintain. Free VPN providers looking to take shortcuts and maximize profit margins simply cannot afford to employ a fully-staffed support team. Should you ever run into a problem you can't solve yourself, a free VPN provider likely won't be able to help you.
Data Caps
A reliable VPN provider grants you the freedom to use the internet as you wish, whenever you wish. Unfortunately, free VPN services don't have the means to provide this. That equates to bandwidth caps and slow downloads, preventing you from enjoying the open internet experience you deserve.
About Us
WHMCSSmarters is a core team of four (4) siblings and 35 experts working and executing under one umbrella for delivering the best customised services for your Web. Yes, this is a family of real siblings who code together.
Mainly, We are offering Web | Android | IOS Development at the best level